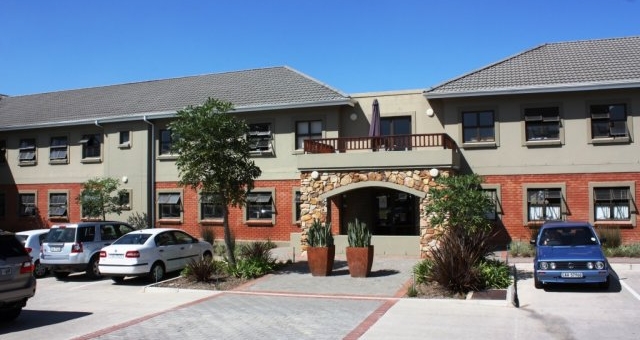 Glenwood Scholarship Fund
Why offer a scholarship?
A decent education is something South Africans cannot take for granted. While there are some excellent schools in South Africa, there are also many underperforming and under-resourced schools, especially in the townships and rural areas. Failing schools and poor education perpetuates the cycle of poverty and unemployment. The majority of children in South Africa do not successfully complete 12 years of schooling. Of those who do, most are unable to study further or find employment. Only a small minority (usually those who have been fortunate to attend good schools) end up contributing meaningfully to the economy. Securing a decent education by attending a top private school is usually only reserved for the privileged and the wealthy. Many children from poor backgrounds are gifted and motivated, but cannot afford to attend a private school due to the costs involved. Having no other option than to attend their closest township school (most of which are not English-medium schools), their potential is stifled and their future hangs in the balance. By offering scholarships to promising young children from disadvantaged backgrounds, we give these individuals the hope of a better future, and by extension we help transform their communities. Our goal is to raise up leaders who will be able to influence and give back to their communities as adults.
How the scholarship fund works
From donations to the Trust, our goal is grow an endowment fund which can support an increasing number of scholarships from the interest on the capital. As the capital in the endowment fund grows, we will be able to sponsor more students with bursaries to attend Glenwood House, one of the best performing schools in George. In future we may also partner with other schools, as needed. Glenwood House has generously partnered with the Wild Wings Educational Trust by discounting school fees by 50% for qualifying scholarship recipients. The scholarship will pay for the other 50% of the student's fees, as well as all other necessities such as school uniform, stationery costs, etc. A contribution from the child's parents is also requested but this will be in line with their financial ability and will vary from case to case.
Change a life - sponsor a student!
You can completely change one child's life and future by becoming their sponsor. To sponsor or part-sponsor a student's education, we need a long-term commitment from you to donate a fixed amount per month. It costs the Trust roughly ZAR 1600 or $110 or £90 per month to sponsor one child's education at Glenwood House, at junior primary school level. The cost is higher for the senior primary and high school years. By pledging to donate all or part of this amount on a monthly basis, you can sponsor an individual child's education. You will get regular updates and personalised news about their progress, and hopefully at some stage you will be able to come to South Africa and meet the student yourself. If you can't sponsor the full amount, but you can pledge $20 a month, that will still make a huge difference and you can part-sponsor a child that way.
What is the selection process?
Through our contacts in the local communities and via other organisations we partner with, promising candidates are identified and applications invited from their parents. The age group we focus on is between 3 and 7 years of age, when a child's cognitive ability, language ability, intellectual potential and developmental progress can already be measured. We partner with professionals in the field of child development in order to assist us in selecting children who are likely to succeed in an English medium school with high educational standards such as Glenwood House. Glenwood offers an excellent pre-preparatory school for children aged 3 to 6, and the vast majority of children who have completed Glenwood's pre-preparatry phase are ready and well prepared for the first grade of Preparatory (or Primary) school.
In addition to a child's learning potential and academic ability, we look very closely at the home situation of the child during the selection process. A supportive home environment is critical to ensure a child's success at school, including a willingness of the parent or parents to assist the child with homework, to speak at least some English at home, and to support and encourage the child in his or her schooling. We take nothing for granted and do home visits to ensure that the child has access to decent meals, a warm bed, space to study and do homework, etc.
Is it sustainable?
The key to sustainability lies in the careful screening of applicants to ensure we choose candidates who have the potential to succeed at Glenwood. This is also one reason why we feel it is important to start at a young age, and give the child maximum opportunity to enjoy normal academic development and order to be school-ready when he or she enters Grade 1. Nevertheless, each scholarship is subject to annual review by the board of trustees, and if it becomes clear to the school and to the Trust that the child is unable to cope with the standard of education at Glenwood House, the scholarship may be withdrawn and the child assisted to reintegrate into a government school. Other than total academic failure or consistent and serious behavioral misconduct by the student, the scholarship support will not be withdrawn and the student can look forward to a maximum of 15 years of ongoing financial support in order to complete his or her school career at Glenwood House.
The fund's financial sustainability lies in it being an endowment fund (the capital is never touched), as well as the fact that the Trust is an independent entity, completely separate from Wild Wings Safaris and subject to annual external auditing.
Does my contribution make a difference?
Absolutely. The endowment fund needs capital of approximately ZAR 300,000 ($30,000) in order to fund one full scholarship. Our medium term goal is to sponsor at least one additional new student each year, which means we need to raise ZAR 300,000 every year toward this project alone. Even a small contribution of $30 or $50 is an opportunity to make a meaningful and lasting difference in the life of one or more scholarship students from disadvantaged backgrounds. However, you'll make the biggest difference with a monthly pledge. The contribution you sow will reap a harvest of reward not only in that one student's life, but also all those who will be influenced and affected by that student as a responsible, economically active adult citizen. We believe we are doing so much more than "putting a child through school". We are investing in tomorrow's leaders.
Update: First scholarship awarded
Our scholarship endowment fund has not quite reached the required capital yet, but we have identified our first scholarship recipient. We are so proud of young Khanya who started grade 1 in January 2015 at Glenwood House!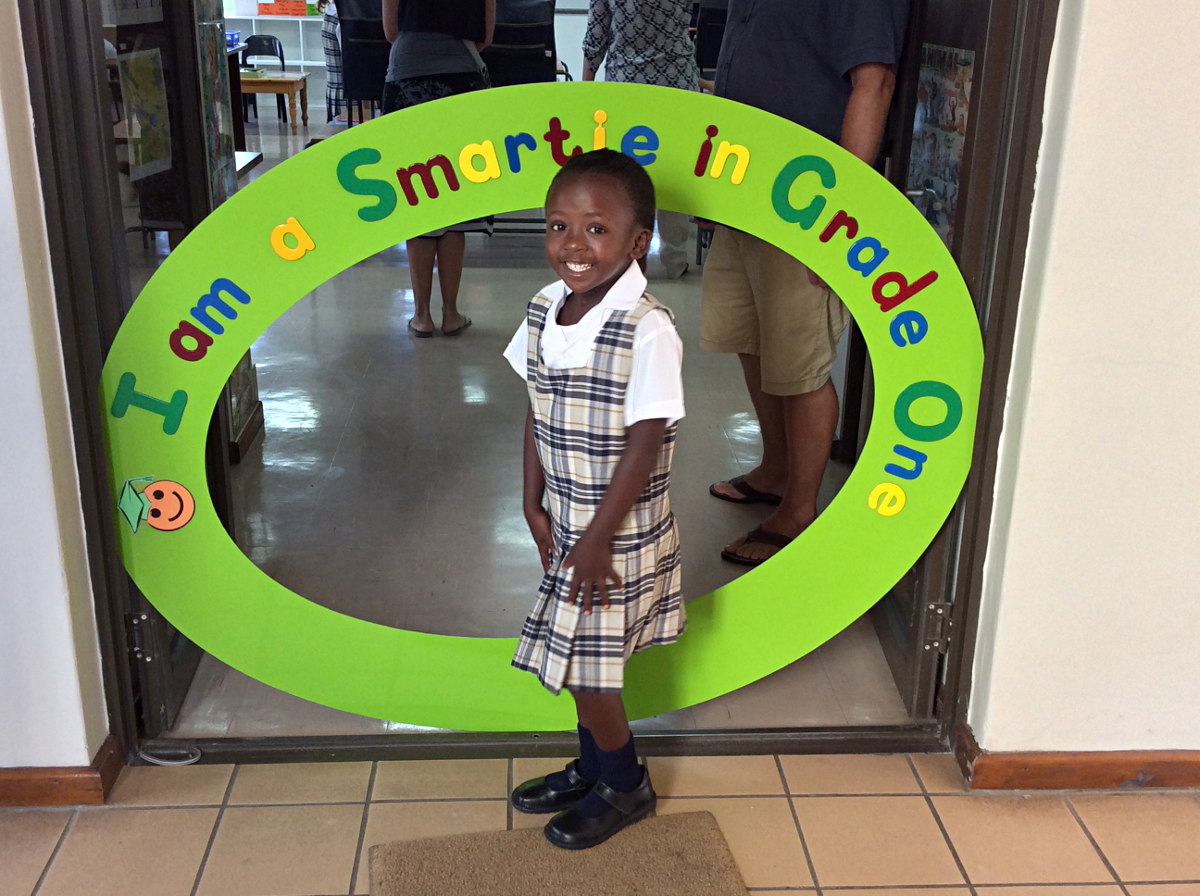 Khanya is a dynamic and friendly young girl who is currently being raised by her mother, a teaching assistant. A generous teacher at Glenwood sponsored her to attend Glenwood's pre-primary school, but this teacher has since moved on and can no longer sponsor Khanya. With the help of our scholarship, Khanya is able to continue her school career at Glenwood House. There were tears of joy at this news! Despite her young age (she only just turned 6, a month or so before starting grade 1), she performed in the top half of her pre-primary class, is ready for grade 1 and looks set to do very well in primary school! She is enthusiastic, smart, polite and as you can see, she's quite the little poser for our camera!
Our priority now is to grow our trust fund to the required ZAR 300,000 so we can sustainably fund Khanya's scholarship without having to touch the capital. We appeal for any contribution you can make toward this cause - your donation will help change the life and destiny of a child. You can either make a once off contribution or pledge a monthly contribution. The monthly cost of this scholarship is in the region of $160 per month. Can you pledge a monthly donation of $20 or even $50 for Khanya? Please head over to our Donations page and scroll down to the bottom for our secure online credit card facility.